Sammanfattning av Bitcoin Sweden Conference 2014 i Stockholm
2014-04-06
Här följer en sammanfattning av Bitcoin Sweden Conference från den 3 april i Stockholm Vi på BTCX är stolta att vara medarrangörer till detta hittills största Bitcoin-event i Sverige.
Vi kommer att återkomma med fler bilder och film på vår VD Christian Ander´s föredrag från konferensen.

Mvh
BTCX crew

Summary of Bitcoin Sweden Conference 2014 in Stockholm
The Swedish Bitcoin Conference 2014 was held in Stockholm on April 3rd.

It was a really interesting event due to several factors. First and the most important of them – BitcoinWoman magazine was there. Thanks mainly to BTCX that invited us, stressing that our presence is necessary. BTCX is a Swedish company providing exchange services in Sweden, but soon also in your country.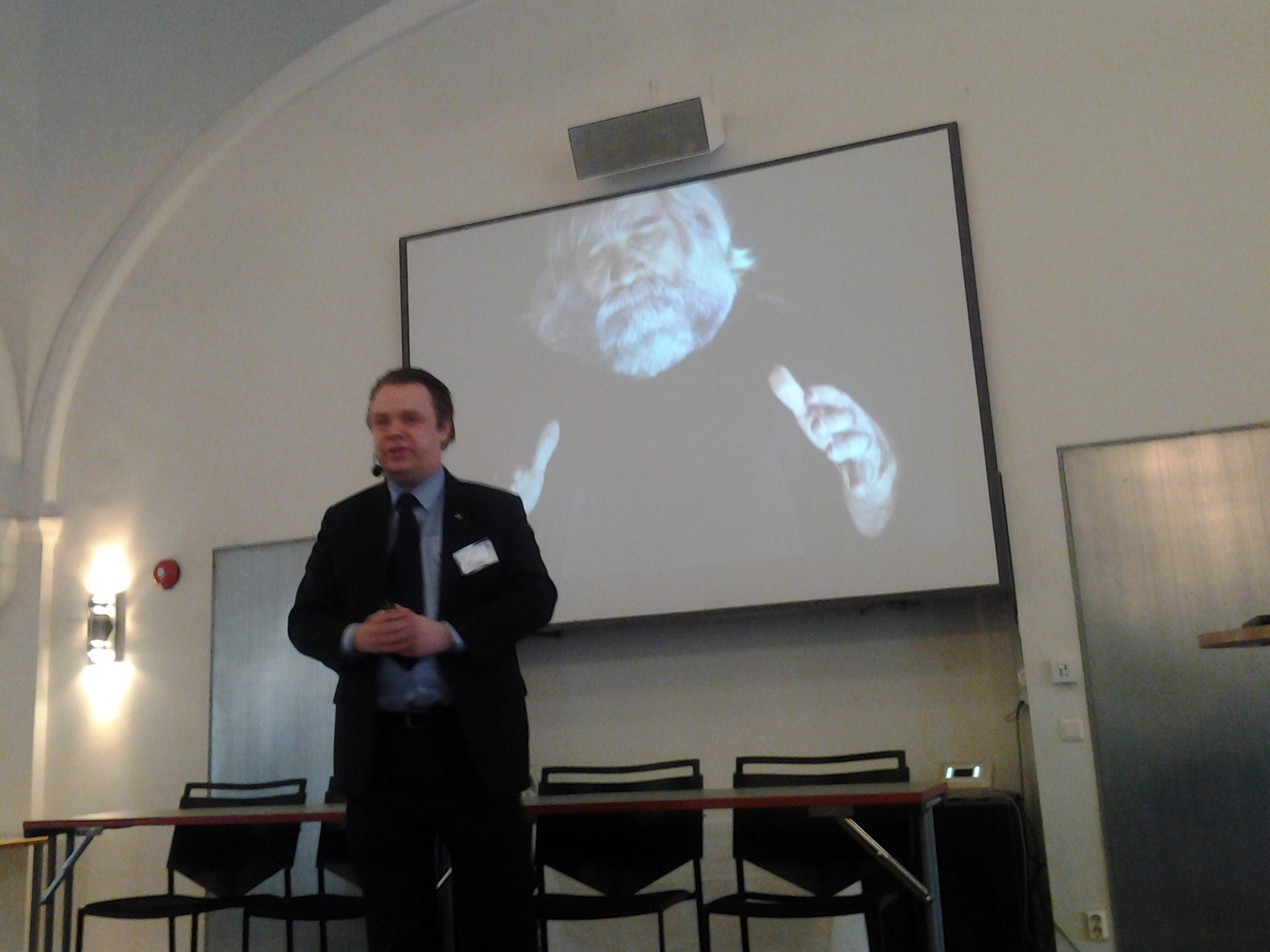 Rick Falkvinge

Another important factor is, what seems to be the essence of every conference – the speakers. First spoke Mats Henricson, a chairman of Svenska Bitcoinföreningen (Swedish Bitcoin Association). He introduced to the audience multiple ideas related to Bitcoin and cryptocurrencies in general (as it wasn't nerds-only meeting) and more importantly presented many interesting expected effects on society in the future, on privacy, money flow, trade contracts, a political organization of states and even such entities as autonomous programs living inside blockchain paying people and being paid as physical persons. What is even more exciting, this future is being built just in front of us at this very moment.

The next speaker, Michael Grønager, COO from Payward Inc., spoke about money in general and what makes Bitcoin and other cryptocurrencies real money. He also highlighted technical details behind Bitcoin. Thanks to Michael it was interesting to notice the strongest sides of cryptocurrency market and prevalence of this technology over traditional fiat money.

Josh Zerlan, COO from Butterfly Labs Inc. speech was focused mainly on mining cryptocurrencies and consequences of voluntary transfer fee that is collected (if present) upon every Bitcoin transaction. What Josh stressed in his speech, this fee opens new era and new areas of Bitcoin income and shaping the flow of money.

The following speaker, Christian Ander, CEO of BTCX, tried to predict the future of Bitcoin in a social, technical and psychological perspective. He pointed out many changes that will surprise us and maybe also scare in the coming years. His company intends to introduce new way of banking with no place for banksters. We like his vision very much, as we need dreamers in this inhumane world of bits and bytes. His very positive vision ended with the prediction of a happy world without poverty – we dedicate him this song.

youtube=https://www.youtube.com/watch?v=yRhq-yO1KN8&w=420&h=315&playsinline=1

Jan Tibbling, senior public prosecutor of Swedish Economic Crime Authority spoke about a criminal side of cryptocurrencies and an inevitable regulation of this market that must follow popularization of this medium of payment. As Sweden is one of the most progressive countries in terms of balance between personal freedom and regulations it turns out that this country can become a leader in reasonable regulatory means of Bitcoin and other coins. What was missing, however, from his speech is when they will regulate efficiently fiat currencies, banksters and corrupted politicians.

Jon Matonis, a founder of the Bitcoin Foundation, is a guy who exchanged mails with Satoshi. This could be enough to be engrossed with his speech, but Jon also pointed out many interesting consequences stemming from his vision of Bitcoin being money without a government. According to him, Bitcoin can and will change relations not only between people, but also between those who are ruled and those who rule. Furthermore, Bitcoin opens a lot of possibilities other than only exchanging goods with its help.

Rick Falkvinge, founder of the Pirate Party spoke about how in the history of humankind new technologies make old ones obsolete and more importantly how old technologies advocate (mainly those who earn money on them) tried to stop improvement by all possible means including legal bans and a corporal punishment. What is encouraging however, all such attempts to stop new technology from replacing old ones always fail. It's just prolongation of agony. Rick gave quite an important warning, that a fighting resistance towards cryptocurrencies can be long, tough, but ultimately win the battle.

Hans Henrik Hemming, CEO of BIPS.me, spoke about a merchant side of Bitcoin payments. As Bitcoin is still perceived by many as quite complicated payment medium, Hans shown how easy and more importantly profitable way of receiving payments from clients it can be. However he stressed the importance of educating people of security issues, in particular how a reasonable level of security can be achieved by everyone. Acceptance methods of cryptocurrencies are evolving very quickly, we could experience this after the conference paying with Bitcoin in a nearby restaurant.

Robin Teigland, an associate professor in Handelshögskolan i Stockholm (Stockholm School of Economics) and first women to speak at this conference, spoke about an evolution of money, its historical context, impact on society internal relations. Also pointed out that a current perception of money is based on an old mindset that money is equal fiat money and nothing else. What is often ignored is the fact that aside fiat money there is multitude of local or context specific currencies already and Bitcoin is nothing new in this regard. Third industrial revolution is just around the corner.

Stephen Tual, CCO of Ethereum, spoke about further possibilities that come from distributed consensus network similar to Bitcoin or just built upon Bitcoin code. There is a multitude of possible applications of Bitcoin-like solutions naming only a few: "intelligent" contracts executing upon real events by themselves, a smart property, having shares in enterprises by just "one click", companies located and operating in cyber space with no real world seat and moreover no governing law applicable, autonomous applications living in cyber space, elections in any scale and a lot more. If we weren't aware what kind of conference we attend we could bet that it's a kind of SF con. After individual speeches there were two panels.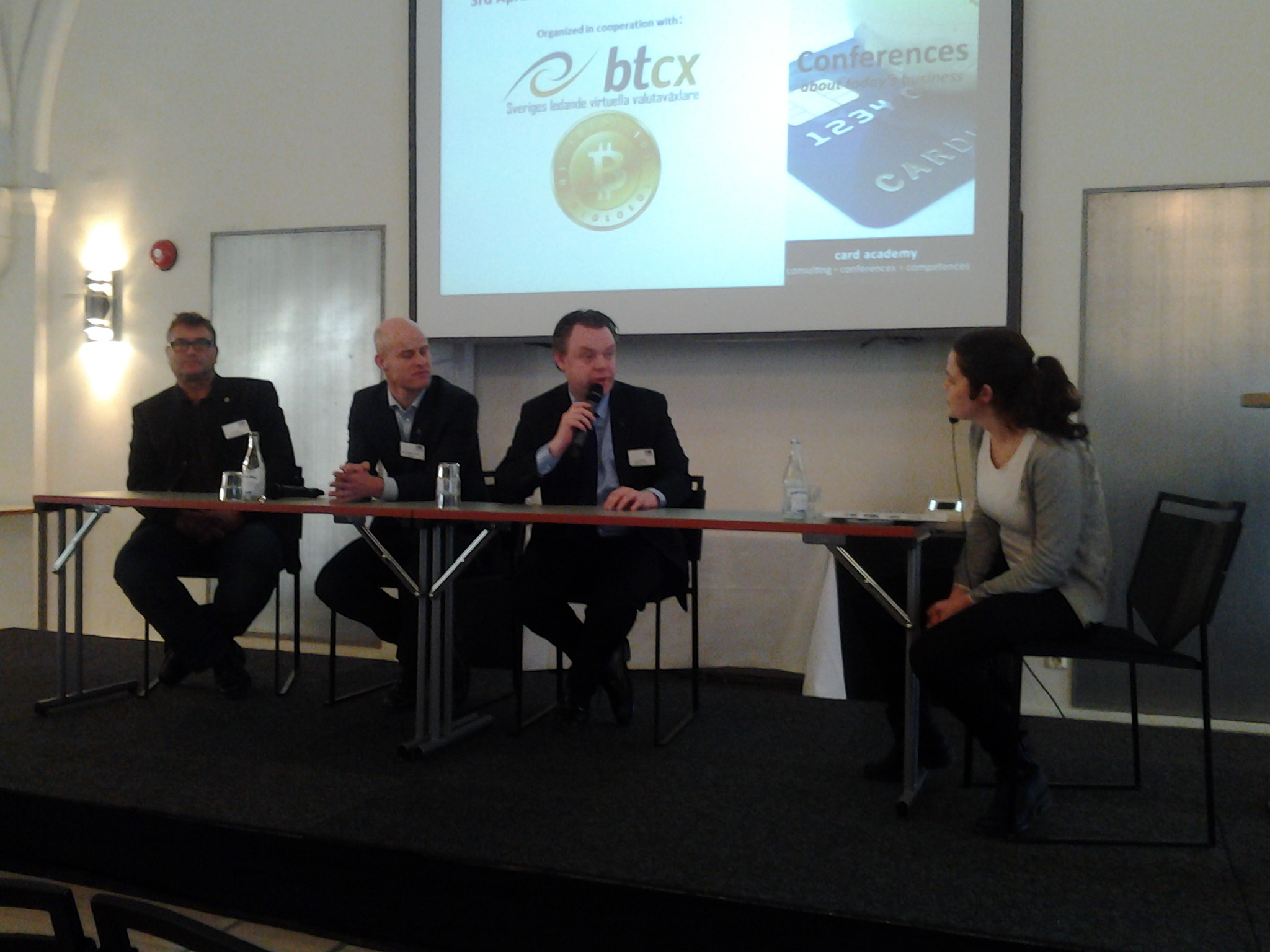 The first one, led by Christian Ander, focused on smaller cryptocurrencies with a big potential, to name them: Litecoin, Ultracoin and obviously Dogecoin. Liberty coming from a possibility of creating many cryptocoins gives a lot of opportunities. Local coins, coins aimed at certain applications and many more. To conclude this panel – small cryptocoins are not only necessary, their existence is inevitable and we must learn how to benefit from it.

The second panel was a voice of big guys. Jon Matonis, Hans Henrik Hemming and Rick Falkvinge were asked about Bitcoin regulatory attempts, future, liberties connected with cryptocoins. What is encouraging they were answering almost unisono, pointing out dangers that can arise from regulatory attempts, possible attacks on civil liberties, but in general at least interesting future in front of us all. This last panel was led by women – Claire Ingram from Stockholm School of Economics.

This last fact is important for us due to obvious reasons. At least two women took part actively in the conference. As to audience, the striking thing is that there were only a few women there. Men, asked for possible reasons for such underrepresentation of women in the conference as well as in Bitcoin community in general had no real solution nor answer. Most probable is the technological bias between men and women due to culture and social roles.  This could be an easy explanation in Saudi Arabia, however in Sweden it is at least strange.

Being a little sexist and stereotypical – isn't it a scary perspective that women hand over the decisions about such promising and powerful thing as cryptocurrencies to men with all their destructive toys and behaviours? Come on, we are a safety valve for them (as they are for us).  Thanks to this event we had a chance to meet many interesting people. Some of them will be writing articles that you will have an opportunity to read here.  Take a look at TV news about the event (there were two television stations which shows that Bitcoin is no more the niche for nerds).
https://www.tv4play.se/program/ekonomi?video_id=2590169
Below is a list of lecturers and some links to their activities.

Mats Henricson, a chairman of Svenska Bitcoinföreningen (Swedish Bitcoin Association)
https://www.bitcoinforeningen.se/

Michael Gronager from Payward Inc
https://www.kraken.com/

Josh Zerlan from Butterfly Labs Inc.
https://products.butterflylabs.com/

Christian Ander, CEO of BTCX
https://www.btcx.se/
https://bt.cx/

Jan Tibbling, senior public prosecutor of Swedish Economic Crime Authority
https://www.ekobrottsmyndigheten.se/en/

Jon Matonis, a founder of the Bitcoin Foundation
https://bitcoinfoundation.org/

Rick Falvinge, founder of the Pirate Party
https://falkvinge.net/

Hans Henrik Hemming, CEO of BIPS.me
https://bips.me/

Robin Teigland, an associate professor in Handelshögskolan i Stockholm (Stockholm School of Economics)
https://www.hhs.se/se/Pages/default.aspx

Stephen Tual, CCO of Ethereum
https://www.ethereum.org/

Claire Ingram from Stockholm School of Economics.
https://www.hhs.se/se/Pages/default.aspx

BITCOINWOMANmagazinek
BTCXs marknadschef Joakim Herlin visade prototyper för nya Bitcoinprodukter