How are bitcoin made?
One of the most common questions we get when we're talking about bitcoin is "How are bitcoin made?". The long answer is quite complicated, but there is a short answer to give, which is "through so-called bitcoin mining". A short video on how bitcoin mining works:
Popular
Working with bitcoin mining is very popular. So popular that more and more companies are investing millions in developing technology or purchasing equipment to be used for mining bitcoin.
Bitcoin mines
Producing bitcoin is called mining because it can be compared to physical mining. Both activities require engine power where the machine in a normal mine works to extract raw materials from the mountain. The computer that extracts bitcoin works in a digital "mountain", a mountain of advanced math to extract what we can call the digital commodity or "digital gold". Bitcoin.
The boss of an ordinary mine knows that there are resources to find in the rock, but they don't know exactly where the raw material is. So the machines has to dig a lot to get to what they're looking for.
This is also how it works for mining bitcoin, although the mountain has been replaced by cryptography – extremely complicated mathematics that requires large amounts of computing power to be resolved. There is bitcoin to extract if this large amount of computing power gets involved to deal with the mathematics.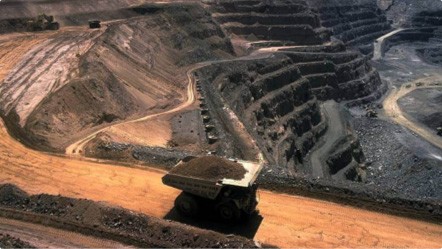 Verifying transactions
Every single bitcoin transaction that is made has to be verified and inserted into a block, this is what is the foundation of trust in bitcoin. To verify a transaction, one must go through many challenging mathematical processes. It is not because of poor design or malice that it's so challenging to verify a transaction, it's because not just anyone should be able to do it without effort. By requiring a lot of engine power for the verification, it's always made sure that there is a decentralized network of miners for the validation. All this is done with the help of the engine power available from the miners, and it's where the fee on each transaction goes. The more and more bitcoin "found", the bigger part of a miner's income the transaction verification becomes.
Mining pool
It's perfectly possible to do this with your own ordinary computer or laptop, but it would be like attacking an ordinary mountain and start digging for gold with a bucket and plastic spade, not impossible, but pretty inefficient in terms of time. This is why companies are investing millions in equipment to dig for this digital resource, something that can be difficult for a private person. But since you, as an individual, don't have as high costs, you don't expect to earn as much on the mining as a large company. There are many who have become rich on bitcoin mining without placing millions on equipment, it just requires more time, and was easier before.
Therefore, as an individual you can take part in a mining pool, where you dedicate your computer to a network of computers that digs together. It is also possible to, from the other side, buy computing power from the "bitcoin cloud mining", which in most cases are large central computer systems.
Read more about bitcoin mining at Bitcoinmining.com