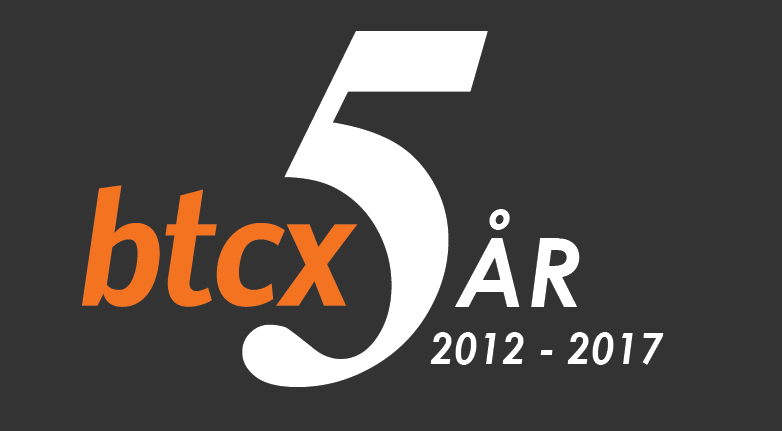 I love new years, not just because of the great parties and the celebration, but because that it's an ending of a year, it gives me time for contemplation and reflect upon the year that has passed. And even more a great opportunity for taking a step in a new direction, both personally, career vise
and for the company's vision and strategy.

Being one of the oldest bitcoin companies in Europe, BTCX just turned 5-years, celebrating it's successes by presenting the award for the blockchain technology a.k.a "blocktech" for the community in the Nordics. Highlighting innovation and entrepreneurial advances made during the past year, making BTCX | Great Blocktech Awards the event of the year in the Nordics if you are in to bitcoin or blockchain.

As the founder and CEO of BTCX, it's been a long challenge to navigate the waters of finance, regulation, banking and serving the customers with high quality service and at the same time keeping the services safe from hackers, frauds and attempts of money laundry. In my own words, it's been a hell of a lot of learnings, sleepless nights and euphoric celebrations (as it is for most entrepreneurs) but, I'd like to claim that, it's is a bit worse for a bitcoin startup…  For all the regulators, banks and many of our customers it has been the same, I have been interviewed and "summoned" by all of the authorities handling financial transactions in Sweden – That being said, it's all about understanding and creating the future we want.

In other words, we have survived most of the challenges a fintech startup can possibly face and now it's time to look forward, taking BTCX the next 5 years will be even more exciting!

2017

Is the year BTCX will take our knowledge and services as a leading blocktech company in Sweden to a global scale. This summer we will release our BTCX | Payment platform along with a payment service license empowering our users in new and exciting ways. Our expansion into Europe will move forward with a strategic recruitment and a financing round. We are also designing a third exchange platform to be released in stealth during the second half of this year.. 

And what can we expect from the blocktech industry?

Sweden

Sweden has proven its presence in the blockchain arms race. Auddly in the Music industry backed with investors like Max Martin and Björn Ulvaeus who want to clean up the licensing, payments and royalty situation. There is Lantmäteriet working with land registry, Nasdaq doing trading and several major banks regarding financial services and making back-office procedures more efficient. Vattenfall is in the distributed energy market, Volvo are making progress with VR, AI and blockchain, there is the E-crown (E-krona in Swedish) initiative from the Swedish Central Bank – Riksbanken. All of these would be groundbreaking news if launched during 2017. Adding to this we have a long list of bitcoin and blockchain startups growing in Sweden and I hope to see them here at Epicenter soon enough – I will personally see to that we get a healthy and growing blocktech community here in Stockholm.

China

Continues to mine bitcoin and make up about 70% of the total mining capacity. The government has now begun to audit the exchanges which could lead to a regulation of digital currencies and thus bitcoin becoming more stable.

India

Has shown its willingness to go into the digital space, somehow disrupting it's own cash system and announcing its first real end-to-end blockchain transaction with the Central bank of India in the forfront.

Dubai

With it's smart city objective, to become the most connected city in the world. Finds blockchain to be the missing piece that could help the government to realize this goal and are aiming for a 100% digitalization of documents to put on the blockchain to 2020.

Switzerland

The City of Zug accept bitcoin payments for its public services and will now expand with more electronical payments platforms and blockchain solutions to become a real e-government.

AirBNB & Mercedes

the CEO of AirBNB said in a tweet that bitcoin is in the community top wish list and he might do something about that during 2017. The community also wanted Mars on Airbnb..

Mercedes recently bought a bitcoin company to strengthen it's digital strategy.


Let's see how all of this plays out and make 2017 a great year to remember!